Coconut Oil and Baking Soda for Wrinkles
The aging signs on the skin are known as wrinkles that affect both men and women equally. Nowadays our skin affected by it because of excessive stress, unhealthy diet, pollution, and genetic predisposition. However to stop these anti-aging issues and to look young many treatments are available, one of them is laser while the other one is medication.  But these both are harmful due to chemicals in it and as well as expensive. But today, we have some surprising home remedies for you that will effectively help you out to reduce wrinkles and stop new wrinkles. The most essential ingredients of these home remedies are baking soda and coconut oil.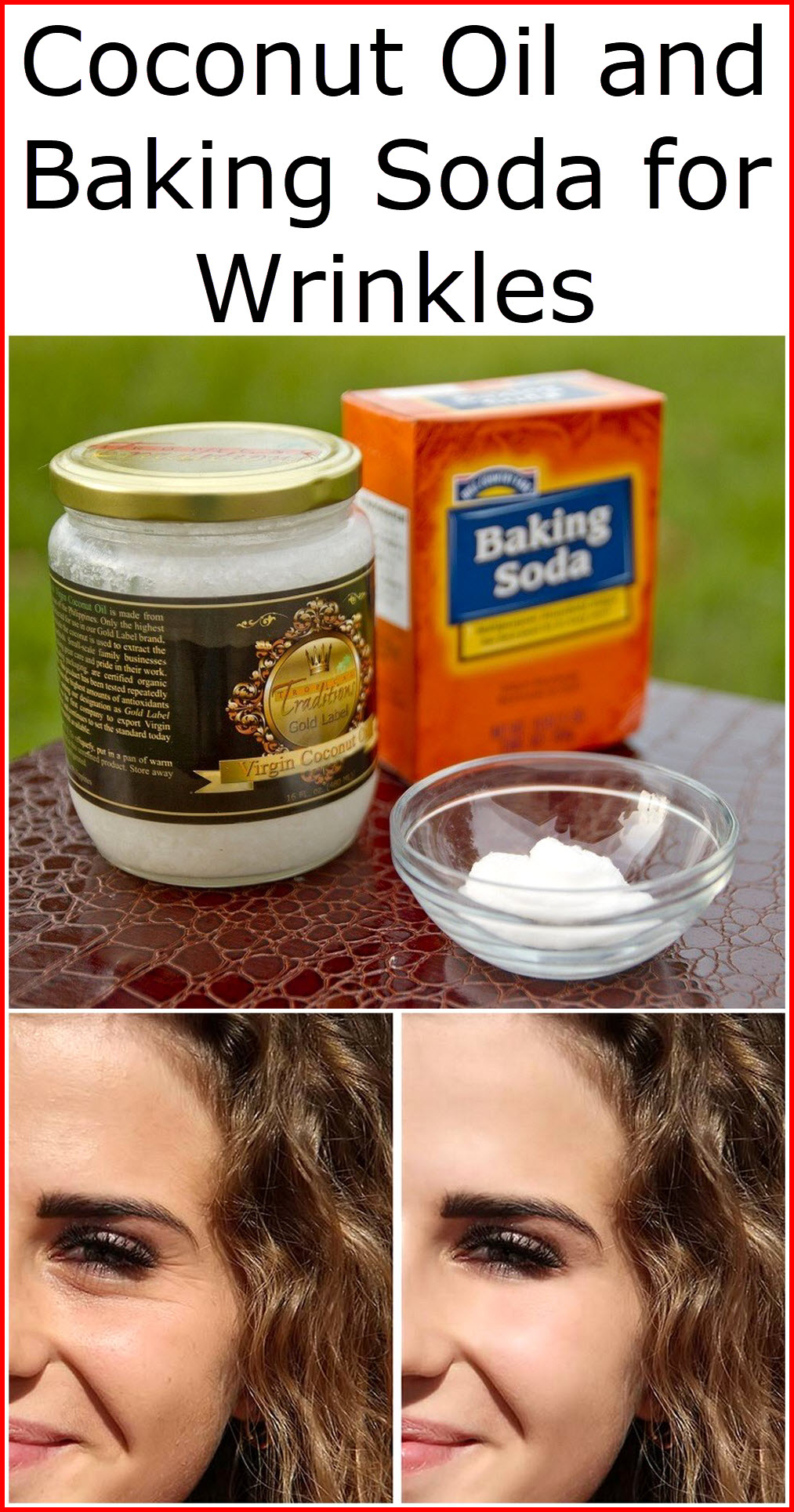 Some Home Remedies to Get Rid OF Wrinkles
These simple and the natural home remedies will help to treat fine lines and wrinkles by tightening the skin. Just make sure to follow them regularly and you will soon get surprising results with it.
Two natural ingredients, baking soda, and coconut oil both are amazing anti-aging products. Baking soda helps to cleanse skin, it gently exfoliates, shrink large pores of the skin and firm the face. On the other hand, coconut oil has antibacterial properties that nourish the skin cells, intensely moisturize them, and reduces fine lines on the face.
Coconut Oil for Wrinkles:
Things we will need:
Coconut oil
Directly to apply:
Take a small amount of coconut oil in your hands
And apply it on your skin that is affected with wrinkles before going to bed.
For next few minutes, gently massage it in the circular motion.
Leave it to work overnight.
In the next morning, rinse it off with cold water.
You can easily repeat the process of using coconut oil on wrinkles regularly until you get rid of wrinkles.
Using coconut will make your skin flawless and shiny.
You will look younger than your age.
Baking Soda for Wrinkles:
Things we will need:
 3 teaspoonsful Baking soda
3 teaspoonful  Water
A small bowl
Directly to apply:
Mix water and baking soda in a bowl.
Make a paste with proper stirring.
Apply this paste on the skin areas affected by wrinkles.
Scrub the paste for 1 to 2 minutes.
Wash your skin with cold water.
Baking Soda and Coconut Oil for Wrinkles Treatment:
Baking soda 3 tablespoons
creamy organic creamy coconut oil 1/4 cup
lavender essential oil 2-3 drops
tea-tree essential oil 2 drops
A spoon for mixing
A jar for storage
Directly to apply:
Take a jar and add 3 tbsp of baking soda.
Next, add ¼ cup creamy coconut oil.
Take a spoon and mix these both ingredient properly until combined.
Simply add 2 drops of tea tree essential oil and 2-3 drops of lavender essential oil and stir again.
To use, simply take the required amount from the jar and use it on your skin with dry fingers. Message it gently in circular motion and leave it for few minutes.
Now wash it with tepid water.
It will be better to use a natural toner after every application.
Use this remedy twice a day until get rid of wrinkles and fine lines.